5 tags
7 tags
7 tags
7 tags
6 tags
9 tags
6 tags
I find my Happiness
For you someone who are very optimistic and ambitious to catch your dreams.  I know that you'll be never satisfied until you get what you want on your life. I am one of them too anyway, well, before I meet a complicated thing called, romance.  I used to be a very perfectionist person which sometime I could be a greedy to achieve my goal. I thought that nothing impossible to do in this world as...
6 tags
6 tags
4 tags
5 tags
4 tags
4 tags
6 tags
Tour Guiding Day 3 : CingJing Farm
Wooww! Finally, we were arrived at CingJing which were our main destination of this trip. Woke up 5 o'clock morning, took the first train, spent 4 hours to arrive here, well, it was really worth it for sure! As long as we arrived the hostel, we had lunch at Lu Mama's Yunnan Restaurant. Well, I didn't think that the dishes were delicious as the blogger say. The taste was...
5 tags
Tour Guiding Day 2 : Tulip Flowers Festival
When my mom decided to visit me, I spent my time to google where places worth to visit. The point was my mom loves flowers so much. Fortunately, I found that Taiwan hold Tulip Festival in Taichung. I thought that Tulips only grow up in Holland. And here we are! After a very long journey by train. See you on our next trip!
5 tags
Tour Guiding Day 1 : Hello again, Taichung!
Hi! I'm back! Sorry for neglecting my blog for couple of weeks. I just have my winter holiday, well, finally I have unlimited time for a month to do whatever I want! I'm sure I will gain my weight up to the holiday end. I blame to snacks which my mom brought from Indonesia. Haha. I really excited about our trip! Taking my mom and my sister to travel Taiwan. Here we are, Taichung! ...
1 tag
"I don't like the new template of posting text tumblr. Can I get the old..."
3 tags
Welcome to Taiwan
I'm missing my mom, dad, brothers, sister, grandma, and everything about my town. I've been in Taiwan one year four month, and just about 6 months later I plan to back Indonesia. I used my winter and summer working part-time, saving more money to buy a round-way Australia's ticket and its accommodation. Although sometime I don't want to go home, because I did nothing at...
4 tags
7 tags
Welcome 2013 : Please be nice!
Did you think that time fly so fast? Yeah, time flies very fast by using rocket. Welcome for 2013! For moments we had not been meet each other, friends from my town in Indonesia. We called us "AREMA" It had been a long time I didn't meet my best friend, Irene. Miss you girl! We took bus toward Mount. Yang Ming, placed of Irene's University. This place was really...
8 tags
Quality time of Christmas
Our relationship though we live currently in the same country, but like kind of long distance relationship. We couldn't meet every time we want to meet, specially at Christmas time. We separated by distance and time. So, we agreed to meet before Old and New Year Party. Walking around Taipei City, feel the Christmas atmosphere, see the scenery of the town seem very nice! Oops, don't...
7 tags
5 tags
Christmas Baking Day
I always love the feeling when December will come every end of the year. Not also when the Christmas come, but when the old and new year come. I do really like everything Christmas, about the red and green color, Santa Claus, Christmas Tree, Christmas ornament, and Christmas Date. LOL. Some reason why I regret landing in Taiwan because they don't have holiday on Christmas! So, I miss the...
5 tags
6 tags
tricia will go places: Indonesia November 2012... →
triciawillgoplaces: Finally got around to sort the first half of all my Indonesia photos. This was a super spontaneous trip. I barely had any breathing room, having only arrived from my Hong Kong trip a few days prior to this one. But no one is complaining here - my dream is to constantly travel and go to the best… It was my pleasure that Tricia visited Indonesia and learn batik!
4 tags
4 tags
Cherish
Human, a creature who can never stop satisfied. I thought that my past life was so perfect, I have so family, friends, bf who love me so much. I have everything that I wanted. As the time goes by, life cycle change slowly. We can't depend on person called friends, we just can depend on ourself. As you older, you will understand that life is so individual. I've ever complain about my...
6 tags
5 tags
Sweet Raining Day
One day I was so sad that there's no one come to read my blog, then I asked my bf "Are everyone think that I'm too lazy to write my daily blog so they seldom read my blog?" Then my bf answer, "Yes you are". I recall my memories a couple months ago I didn't post as daily week, I almost post as daily month. I used write my post on my blackberry first, then...
3 tags
Anniversary Dinner
I've done my midterm exam this week, actually I don't feel anything relieve but just worry. The next week exam and presentation will be welcoming me soon. Whatever, this post is what I've been told you before celebrating our first anniversary. Enjoy! I knew this place from googling romantic place suitable for dinner nearby my home. Their theme is Bali restaurant which named...
7 tags
4 tags
One Year
I'm really sorry that neglected my tumblr for very very long time. I was really busy recently prepare my schoolwork. My obsession this semester is get my average grade back to A again. My heart got damn beaten by not passing a subject about mystery of life last semester. I don't want this happen anymore on my life, that's why I become such a nerd now. LOL. I was wondering...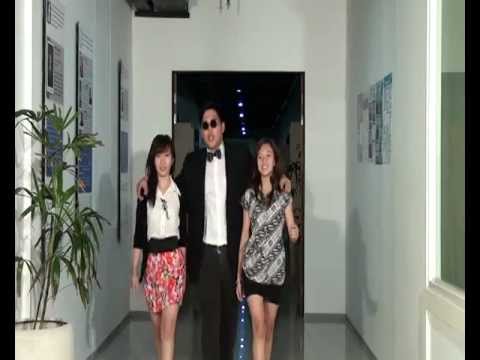 5 tags
Lip Concelear Candy Doll
I've been interested to Japanese and Korean make up recently. The girls looks really so cute with their makeup style. Well, I think the differences of make up is how you put on your face. My make up tools are sufficient to just special occasion. Then I realized that the color of Japanese's lip are different. Their lipstick is toward to nude color, but you have to put on lip concealer...
6 tags
October 10th of Taiwan
I really want to find out what the people usually do on special events in my recent place, Taiwan. October 10th is the national day in Taiwan, it usually called Double Ten Day.  I went Chiang-Kai-Sek station to meet up with my old friend, Thanie. We had lunch in a on of famous dumpling in there. Honestly, this is my first time come to Chiang Kai Sek Memoriam Hall. That is one of the...
5 tags
Mooncake Festival 2012
Happy Mooncake Festival everyone! Sorry for my late post. Actually, this post must be posted on two weeks ago but I just have feeling to write this week. Taiwanese usually celebrate this event spectacular. They will gather around with them family and have BBQ at their home. I wish I could bring whole of my family come here to celebrate this day. Well, we have a humble BBQ dinner last night with...
5 tags
Random Photos
Frankly, I didn't update my blog because i was so busy instead I didn't any idea what I want to write it down. So, I just share my random pictures and introduce my photographer as advertising too. LOL. Enjoy! Those photos were took by Biem Photoworks. His range located at Indonesia only. Welcome to ask and reservation. Photos were taken by Iceberry. He were at Taiwan,...
3 tags
Happy 20th, Dear!
I noticed something strange happening to me. I have been poisoned by a creature who make his appearance come into my mind. Now I just hardly can't keep his out of my mind. So I realize he'll be my world now. I just smile when the led my blackberry light on and find he was there. I'm feeling happy every time he sit next to me, and I don't need to worry about anything...
4 tags
Welcome Party Freshmen 2012
It's really quite a year since I came here being a freshman. Now I will introduce them. There were eight people before but one of them was going to enrolled to different university. And here them are. My bf's got really interesting expression of them. Since I am a sophomore now, I will organize all the activity in the Indonesian Association Student in my university. The person...
4 tags
Meteor Garden, IngTe University
Did you remember a Taiwan Drama called Meteor Garden? For me, It's the best romantic drama ever. I used to be watch it every year on my promoted class holiday, but I never bored although watching for many times. Last week, I went to the shooting place of Meteor Garden. Isn't called IngTe University in the movie? But the real name is Zhong Zheng University, located on a small town in...
4 tags
5 tags
Leefoo Village
My summer will quite end soon, just two weeks more and everything gonna like usual. Gonna spend the rest of my summer on unlimited freedom! Theme park, I'm coming!  Our T-Shirt were so damn cute couple suit, just like King and Queen on the poker card. I really went home. My head was dizzy enough through many games, but my bf pushed me to play more. Look, I didn't...